$2.75 Million Gift to Bring 3D Mammography to Carol Milgard Breast Center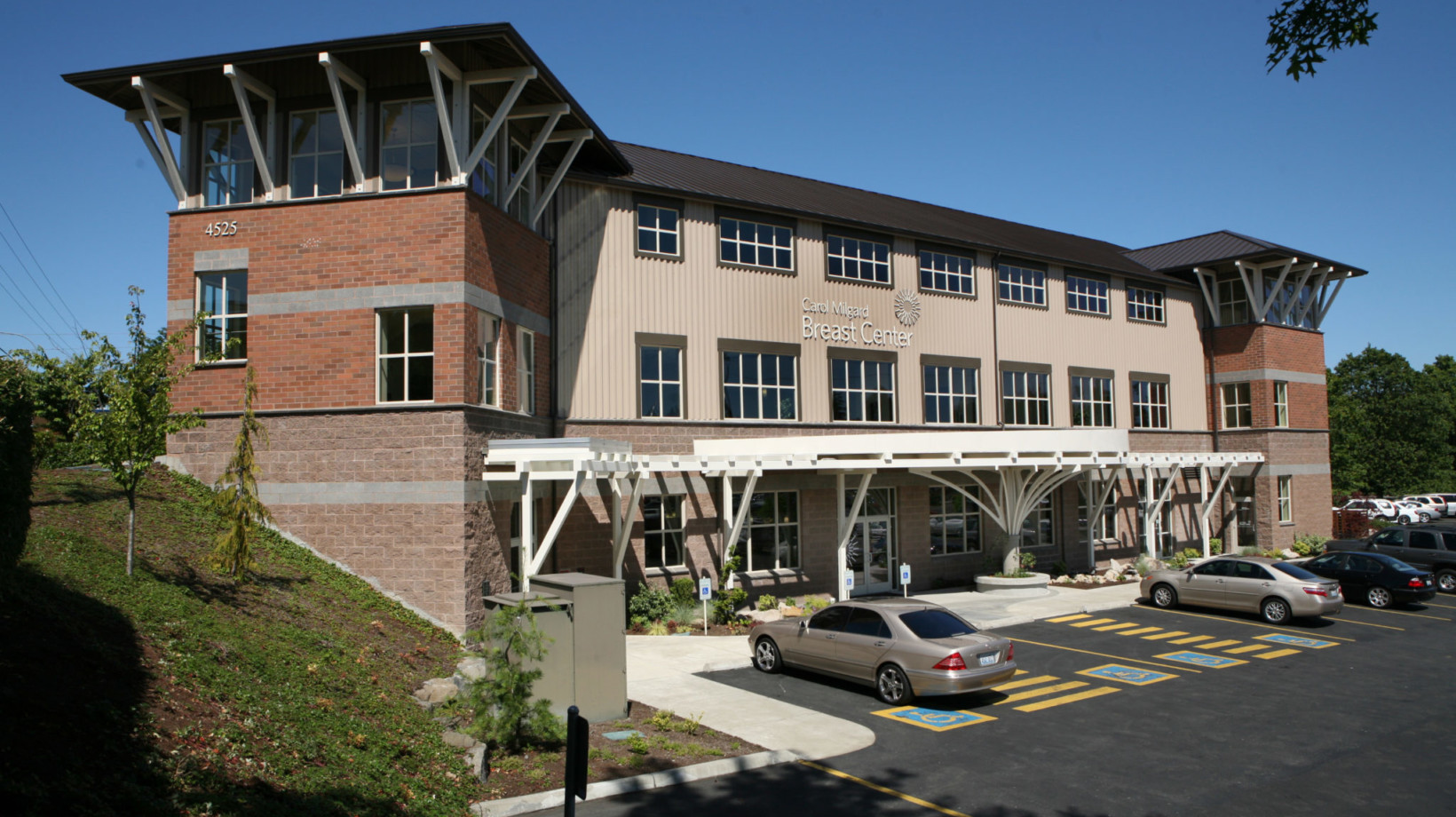 Gary E. Milgard Family Foundation gift allows center to be first in Pierce County to offer advanced mammography services
February 21, 2013
TACOMA, WA – The Gary E. Milgard Family Foundation has awarded a $2.75 million grant for the Carol Milgard Breast Center to provide tomosynthesis (also known as 3D mammography) to aid in the early detection of breast cancer. The technology will be installed later this year, making the center the first in Pierce County to offer this technology.
The Gary E. Milgard Family Foundation has been a generous supporter of the breast center from the start. The foundation provided a major gift of $5 million to establish the center, which opened in February 2009 as a leader in breast imaging. The center is named to honor the spirit of Carol Milgard, who formed the foundation in 2000 with her husband Gary and three children. Carol was a long-time Tacoma resident, philanthropist and breast cancer survivor.
"We are deeply honored by the Gary E. Milgard Family Foundation's continued commitment to the breast center," said Khai Tran, M.D., medical director of the Carol Milgard Breast Center.
This extraordinary gift from the foundation will bring breast tomosynthesis, or tomo, to Tacoma – which is one of the most advanced technologies available today for early detection of breast cancer. This groundbreaking technology detects more cancers and saves lives. Tomo also reduces the number of call-backs, sparing women the anxiety, inconvenience, and expense of coming back for additional exams and procedures. Six new tomo units will be phased in at the Carol Milgard Breast Center by the end of this year.
"As a center dedicated solely to breast imaging and the early detection of breast cancer, we are thrilled that the Gary E. Milgard Family Foundation's gift will allow us to become the first in Pierce County to offer patients access to this revolutionary technology," says Tran. "Fewer patients will be called back for additional imaging because tomosynthesis allows the radiologist to see the breast tissue much more clearly."
Tomosynthesis is Food and Drug Administration (FDA) approved and will be used in conjunction with the traditional mammogram (2D mammography) at the breast center. During the 3D portion of the exam, the X-ray arm sweeps over the breast, taking multiple images in just seconds. Using advanced computer imaging, it converts digital images into a stack of very thin layers, or "slices," of the breast. This allows radiologists to look at the breast tissue one layer at a time instead of just one flat image, as in 2D mammography.
Combining 3D mammography with conventional breast imaging has demonstrated a superior cancer detection rate – improved by 10% – 30% over 2D imaging alone. Tomo has also been proved to reduce the number of call-backs by as much as 30%.
The foundation gift will also expand availability of 3D mammography beyond the Carol Milgard Breast Center which is jointly owned by Franciscan Health System and MultiCare Health System and is managed by TRA Medical Imaging. Franciscan Chief Executive Officer Joe Wilczek, MultiCare Chief Executive Officer Diane Cecchettini, RN and TRA Chief Executive Officer Dennis Carter, have all committed to purchasing tomo units for their additional imaging centers in Pierce and King Counties within the next two years.
"This significant commitment will elevate the level of care for patients throughout the region," says Jacquelyn Ostrom, executive director of the Carol Milgard Breast Center. "MultiCare Health Foundation and Franciscan Health Foundation, in addition to executive leadership from our owners and TRA, were instrumental in helping this dream become a reality for us. We are elated to have such wonderful partnership to support our mission of providing exceptional breast health services to all women in our community."
The Carol Milgard Breast Center is a non-profit organization located at 4525 South 19th St. in Tacoma and provides screening and diagnostic breast services. It is designated a Breast Imaging Center of Excellence by the American College of Radiology, and it has served 90,000 patients since opening. The center's radiologists are all board-certified and specially trained in breast imaging. In 2012, the center provided more than $381,000 in care for patients who could not afford to pay for needed services.
To learn more about the Carol Milgard Breast Center, or to schedule an appointment, call 253-759-2622 (1-866-758-2622 toll-free) or go online to www.carolmilgardbreastcenter.org.