Celebrating 70 Years of Service in Our Community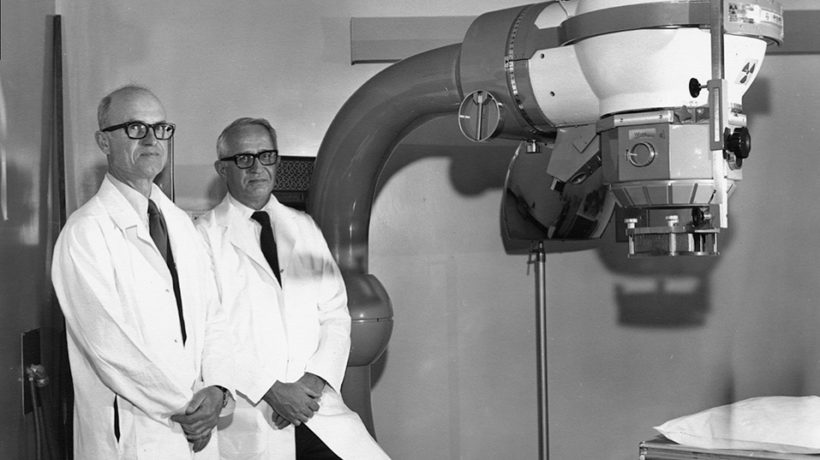 For over 70 years, TRA Medical Imaging has been in the forefront of medical imaging technology and patient care in the greater Tacoma and Pierce County region. We are proud of our history and below are a few highlights from our archives.
In 1897, Tacoma's first known x-ray was used to find a bullet lodged in a policeman's neck. The x-ray was a crude experiment involving physicians, an electrician, the head operator of the Western Union and a developer. Although the experiments were unsuccessful, it was by no means a failure, according to a report in the Tacoma DailyRegister. Thankfully, diagnostic imaging in Tacoma has come a long way since this primitive x-ray.
TRA Dates Back to the 1940's
Raymond Mac Rae, MD, a pioneering radiologist in Pierce County, founded Tacoma Radiological Associates in 1943 along with fellow radiologists Frank Rigos, MD and John Flynn, MD. In the beginning the three radiologists read, (interpreted exam images) for two area hospitals, Tacoma General Hospital and St. Joseph Medical Center. By the 1960s, the group was spread thin throughout the community. Although they were gaining radiologists, they were reading at more facilities, including Puget Sound Hospital, Allenmore Medical Center, the Doctor's Hospital, the Medical Arts Building, and other facilities throughout the area;
they even read in Aberdeen and Ketchikan, Alaska.
Today, TRA Medical Imaging has expanded its practice to include ten outpatient imaging centers and six hospitals in the South Puget Sound. In the last decade, technology has allowed TRA to provide professional teleradiology services to a number of specialists in Washington State. The ability to read radiology images remotely has allowed TRA to provide high quality and continuity in care for patients.
Cutting Edge Technology
Since its inception, TRA Medical Imaging has continued its mission to be on the cutting edge of medical technology. In 1973, they were the first to perform ultrasound in the area. Headed up by Dr. Emory Bourdeau, these primitive ultrasound scans were mainly used to detect renal masses and limited obstetrical studies. In the late 1970s, TRA was the first in the area to perform head CTs (body CT would arrive much later). Head CTs were acquired by placing the patient's head in a rubber diaphragm that would fill with water and act as a conductor.
In 1986, TRA introduced the first MRI scanner to the area (Tacoma Magnetic Imaging). More recently, in 1997 they introduced Open MRI (Union Avenue Open MRI) to the community, and in 2001 it was Positron Emission Tomography (PET) at TRA Tacoma. This modality has fundamentally revolutionized the way providers care for their cancer patients. In 2006, TRA pioneered a new area of medical care – NeuroInterventional procedures. These highly specialized physicians offer a full spectrum of treatment for stroke, aneurysm and other neurovascular diseases of the brain and spine.
Over the last 30 years, TRA has expanded radiology services to the community to include new procedures such as angioplasty, needle biopsy, and more recently breast MRI. Breast MRI is an excellent problem solving technology, often used to investigate breast concerns first detected with primary imaging exams, like mammography.
Our Commitment to the Community
In keeping with the vision of the founders, TRA has committed to bringing 3D mammography (Tomosynthesis) to the South Puget Sound by the end of 2014. This innovative new tool has improved the early detection of breast cancer. 3D mammography, used in combination with traditional 2D mammography, will become the new standard of care for screening and diagnostic imaging. This year TRA, in partnership with Multicare Health System and Franciscan Health System, implemented this new technology at the Carol Milgard Breast Center.
Our commitment to care does not stop with specialized equipment and highly trained physicians. We are committed to our community. That is why we have offered a very generous financial assistance program, lower fees and payment plans. It is our belief that finances should not get in the way of medical care.
TRA has come a long way, from the first x-ray to 3D reconstruction technology. Over the last 70 years healthcare and technology has dramatically evolved. TRA Medical Imaging will continue its dedication to helping providers offer the most advanced and compassionate care to their patients.