Dr. Tibbetts Receives Quilt of Valor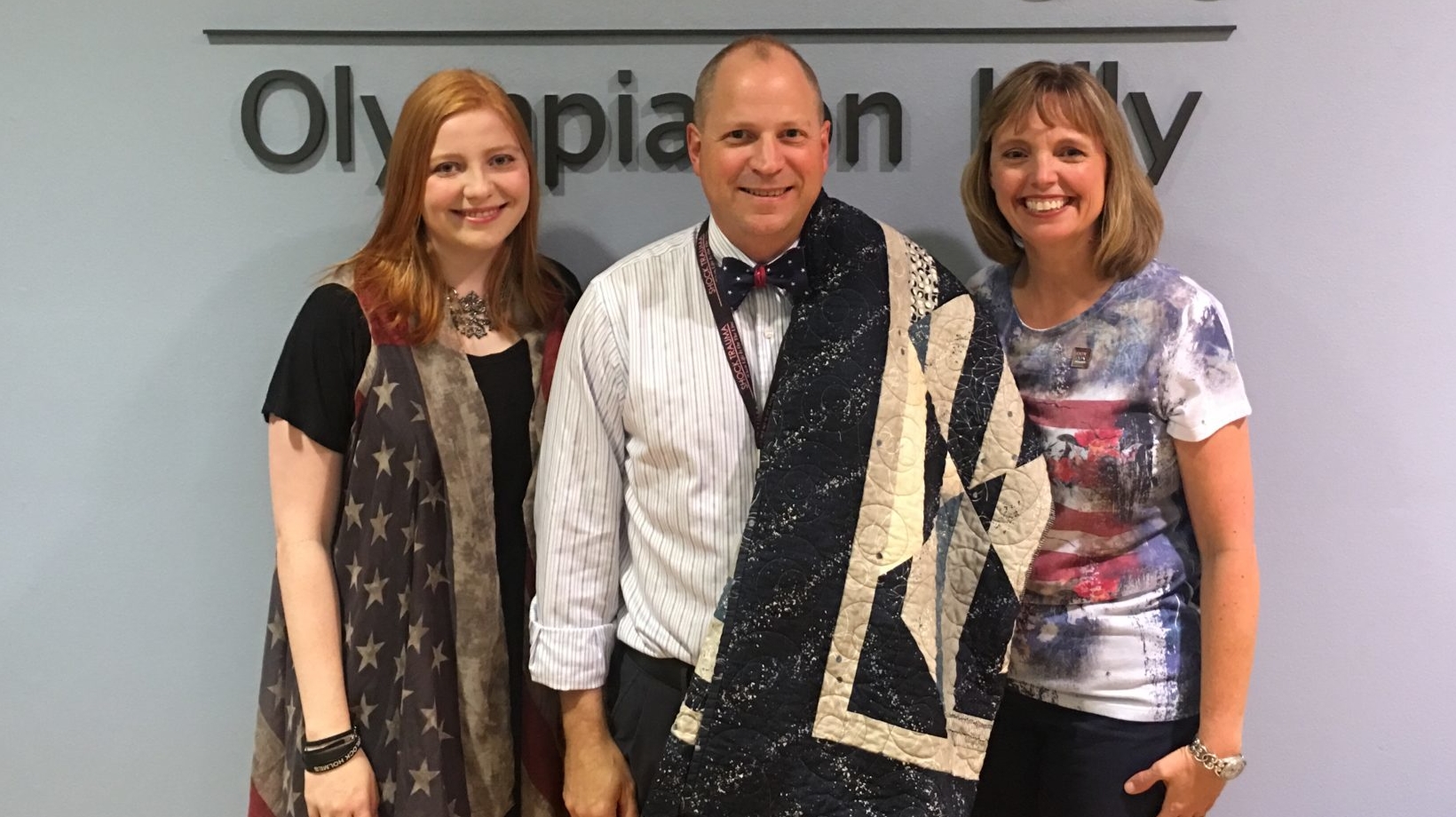 OLYMPIA, WASH. – The Thurston County Quilts of Valor (QOV) group hosted a ceremony on August 31, 2016, at TRA Olympia – on Lilly, to award a Quilt of Valor to Dr. Grant Tibbetts, Col. (ret). Dr. Tibbetts was accompanied by his wife, Suzie, and daughter, Brianna. TRA staff, friends, neighbors, and local providers were also in attendance to support Dr. Tibbetts as he was presented with a quilt in recognition of his 29 years of military service. The quilt awarded to Dr. Tibbetts was inspired by the first line of the Air Force song, "Off we go, into the wild blue yonder…."
About the Quilts of Valor Foundation
The mission of the Quilts of Valor Foundation is to cover service members and veterans touched by war with comforting and healing Quilts of Valor. The foundation began in 2003, when the first quilt was awarded to a young soldier in Minnesota. Since its inception, over 140,000 quilts have been awarded to service members and veterans nationwide.
To learn more about the foundation, visit: http://www.qovf.org/
About Dr. Tibbetts
Dr. Tibbetts joined TRA Medical Imaging in 2014 as the medical director of TRA Olympia – on Lilly. He joined TRA after a distinguished career in the United States Air Force Medical Corps, where he attained the rank of Colonel.
Dr. Tibbetts graduated from the F. Edward Hebert School of Medicine, the Uniformed Services University (USU), in Bethesda, Maryland, and completed his residency in radiology at David Grant Medical Center at Travis Air Force Base in California. He and his family served in 7 different locations at home and abroad during which he received numerous honors, including "Clinician of the Year" for US Air Forces Europe command, the Meritorious Service Medal four times, and the Legion of Merit in 2014.
Dr. Tibbetts impact includes an instrumental role in extending the DoD's tele-radiology capabilities – the ability to remotely transmit patient images – enhancing the global delivery of imaging expertise to distant military medical facilities, and also served as a consultant to various defense programs and as Radiology's Chief Consultant to the United States Air Force Surgeon General. In education, he has had the opportunity to serve as Associate Professor to USU, and to the University Of Maryland School of Medicine in Baltimore.
In his last assignment he was pleased to serve as Chairman of Radiology to the DoD's largest radiology residency program at San Antonio Military Medical Center, where he was able to forge new relationships between Army and Air Force Medicine.
Dr. Tibbetts' approach to patient care (in Afghanistan or Olympia) and his relationships with other medical professionals is guided by the principle of service: "I was privileged to serve our country in a way that has impacted patient care, which was also personally fulfilling," he said. "I enjoy building lasting relationships, and am using my experience to deliver excellent care to our patients and personalized service to their providers within our local healthcare community."
Dr. Tibbetts has already made a sizable impact to TRA Olympia – on Lilly. He was instrumental in launching 3D Mammography, motivating a remodeled women's imaging center, and refining our MRI and Ultrasound services. He has successfully launched a number of new image-guided procedures at the Olympia location. Through his leadership, TRA will continue to incorporate a higher level of medical imaging services in Thurston County, while maintaining a "Patient First" focus.
Dr. Tibbetts was proud to have had staff, patients, community providers, veterans, friends and loved ones present not only for the presentation, but to spread the word and nominate others in our community for the honor (and comfort) QOV makes possible.
To view more pictures of the ceremony visit our Facebook page.