TRA Medical Imaging Turns Hashtags into Cash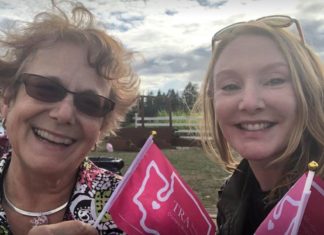 Raising Funds Through Social Media for Making Strides Against Breast Cancer
If you check Instagram, Facebook or Twitter in the next month, you may notice something unusual: women, girls, and likely a few men posing all over Puget Sound with an unusual accessory: a pink flag. It's all part of a campaign by TRA Medical Imaging to raise awareness of breast cancer along with funds for research to cure it, in conjunction with the annual American Cancer Society: Making Strides Against Breast Cancer walk in Thurston County. As the flagship sponsor for the event, TRA will donate $2 for every #TRAStaketheFlag post, up to $1,500. The campaign will officially begin on the day of the walk, October 20, and extend for the next 30 days through November 20.
Thus far, the flag campaign has had a soft introduction at the Rutledge Farms Real Men Wear Pink event. Now, as preparation for the Making Strides – Thurston County revs up, Costner hopes to see social media flooded with pink flags. Already, images are popping up on Instagram and she'd like to see 750 of them by November 20. "If this year is a success, this might be something we can continue to do," she says. "It's a fun way to get the community involved and still support a great cause."
Typically, flags are only seen on the day of the Making Strides event. The non-competitive 3.5-mile walk brings people together to make a difference for everyone who has been touched by breast cancer. Around the country, these events raise money to fund innovative research, provide free information and support, and to help people reduce their breast cancer risk or find it early when it's most treatable. At last year's walk, TRA handed out flags to walkers on the day of the event; this year, they wanted to expand their impact.
"Our marketing team considered the power of social media, and how one person can make a difference and share the message," says Rachael Costner, Corporate Relations Manager for TRA Medical Imaging. "This year we wanted our flags to travel near and far, as well as extend the life of the message."
The flag image connects to TRA's role as a flagship sponsor but, more importantly, evokes the idea of taking a stand for something. "We wanted the symbolism of staking the flag in the fight against breast cancer to be powerful," says Costner.
Anyone who wants to participate can simply take a photo of themselves doing an activity they love such as walking, hiking, bicycling, gardening or hanging out with friends and post it with the hashtag #TRAStaketheFlag on social media outlets Facebook, Twitter, Instagram or Pinterest. "It's TRA's goal that women live full and active lives," says Costner. Images depicting those lives will reinforce the importance of finding a cure for breast cancer.
Flags are available now at TRA's Olympia office and on the day of the Making Strides – Thurston County event. Businesses can also request flags by contacting Costner at rcostner@tranow.com. "Folks may see these flags showing up in local coffee shops, and businesses that would like to hand them out," she explains. "If you cannot attend the Making Strides walk, but still want to make a difference, you may visit the clinic at 500 Lilly Rd NE, Suite 160, Olympia and pick up a flag in the lobby."
Breast cancer is the most common type of cancer among women, second only to skin cancer. Approximately 252,710 new cases of invasive breast cancer were diagnosed within the U.S. last year according to the American Cancer Society and an additional 63,410 new cases of carcinoma in situ (CIS), the earliest form of breast cancer were found in 2017.
Early screening saves lives, and TRA's facility on Lilly Rd. offers cutting-edge diagnostic tools. The center offers 3-D mammography, breast MRI, breast ultrasounds, and biopsies. Like all outpatient clinics managed by TRA Medical Imaging, the Olympia site is fully accredited in mammography by the American College of Radiology (ACR). The ACR only grants accreditation when an imaging center provides patients the highest level of image quality and patient safety.
For more information about #TRAStaketheFlag contact Rachel Costner at rcostner@tranow.com.
Heidi Smith
9/26/18
http://www.thurstontalk.com/2018/09/26/tra-medical-imaging-turns-hashtags-into-cash/