TRA-MINW Welcomes J. Taymon Domzalski, MD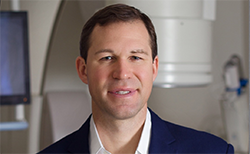 Dr. Domzalski joins the TRA-MINW team!
We are pleased to welcome the newest addition to the TRA-MINW family, J. Taymon Domzalski, MD! Dr. Domzalski moved to the Pacific Northwest after working in Albuquerque, New Mexico, as a radiologist. When asked what attracted him to our practice, he said, "TRA-MINW, while a large organization, has the family feel of a small group with the added benefit of an all-star team of subspecialized top-tier radiologists, coupled with a distinguished and dynamic group of support staff and administrators. For me, it is the perfect fit."
Dr. Domzalski's patients come first mentality aligns with the TRA-MINW values, making him a true asset to the team. "Patients always come first and I truly believe TRA-MINW has built its practice around this idea. I'm excited to join the dedicated TRA-MINW team in delivering the best care in the Pacific Northwest."
Academics and Athletics
Dr. Domzalski attended Duke University where he earned his Bachelor Degree in History with a Minor in Chemistry. During these four years, he played on the men's basketball team and received multiple academic and athletic accolades including the Dr. Deryl Hart Award for academics and the Paine Webber/ABC Sports National Scholar-Athlete of the Year. He was also named to the ACC All-Freshman team, helped his team win three ACC Championships and made it to the Final Four Championship game.
After graduation, Dr. Domzalski spent a couple years playing basketball professionally including in the National Basketball Association (NBA) and in Europe before going back to school to earn his medical degree from the Duke University School of Medicine. He went on to complete his residency in Diagnostic Radiology at the University of Southern California, followed by the completion of two fellowship trainings in radiology – one in Musculoskeletal Imaging and the other in Body Imaging and Intervention.
Fun Fact – Dr. Domzalski was the Dial Award Winner for being the top male student-athlete in the United States in 1994. The female athlete to earn the award alongside him was Olympic gymnast Shannon Miller. Other well-known athletes to receive this honor include Tiger Woods (golf) and Michelle Kwan (figure skating).