Bone Densitometry (DEXA)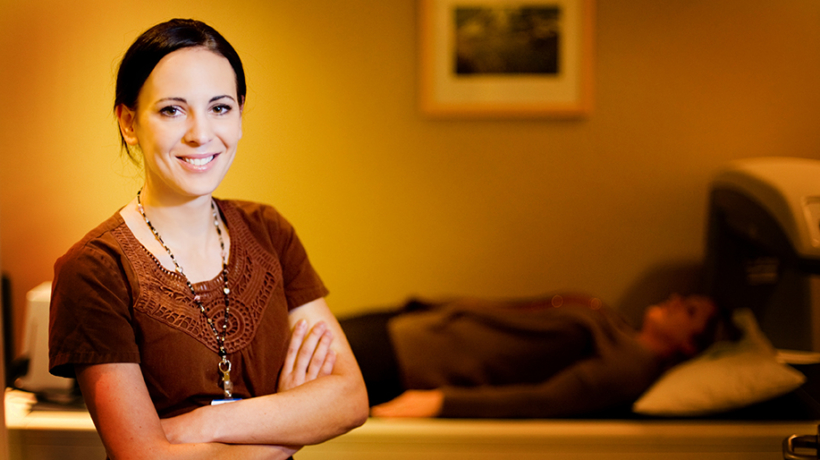 Bone densitometry (DEXA) is an enhanced form of x-ray used to measure bone loss and diagnose osteoporosis—a condition characterized by the deterioration of bone tissue leading to an increased risk of fracture. This test is the most accurate and advanced bone measuring technique available.
Your DEXA Exam at TRA
When you have an imaging exam at TRA you can expect skilled, personal care every step of the way. Before your exam, a DEXA technologist will review your medical history and answer any questions you may have.
The Day of Your DEXA Scan and How to Prepare
Prior to your exam, our staff will inform you of your appointment check-in time. The DEXA exam is painless and takes about 15 minutes. You will be asked to lie very still on a padded scanning bed. Your legs may be positioned on a padded cube to help position your hips and spine for the scan.
You may eat and drink normally before your exam and you may resume your normal activities immediately after your exam. Please wear a loose-fitting outfit with no metal buttons or zippers, and remove any piercings in the torso area before the exam. You may be asked to partially undress and change into a gown to assure there is no interference from metal on your clothing. When you schedule your appointment, please advise our staff if you have had a recent upper GI or barium enema examination.
Your DEXA Results
A board-certified radiologist will interpret images from your DEXA scan. A final report will be completed within 3 business days and sent to your referring health care provider who will then explain the results and answer any follow-up questions you may have.
Additional Resources: http://radiologyinfo.org/